Extension Cords
Doktorvolt® extension cables are characterized by the highest quality and durability. They are used both in home and industrial enviroment. They are produced from high quality components and in various variants: CEE 16A, 32A and 63A (with sockets and 5-pin plugs), Camping Boot 16A (3-pin) and 230V in German Schuko and French standard with grounding pin. There are also versions suitable for power distribution – 16A → 3x230V and 230V → 3x230V modules. The length of the cable and the type of sockets and plugs can be modified at the customer's request.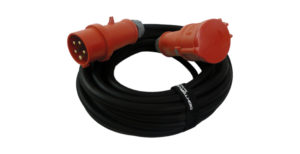 EXTENSION CORDS 16A
Doktorvolt® extension cables with a current strength of 16A are made of five-core oil-resistant H07RN-F, with a 2.5mm2 conductor diameter. The wire includes grounding, meets the latest quality and safety standards. The product has plugs MENNEKES Type 13A and sockets Type 15A. It is used in garages, workshops, catering facilities, hospitals, small construction sites, etc.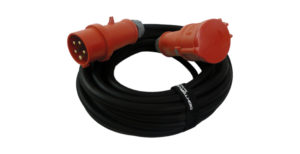 EXTENSION CORDS 32A
Doktorvolt® 32A extension cables are designed to work in harsh conditions, supply power to high-power devices. The product is made of 5x4mm2 wire, oil-resistant OnPD H07RN-F. The extension cord has an IP44 degree of protection thanks to the MENNEKES Type 14A plugs and Type 16A sockets. Ideally suited to car workshops, construction sites and factories.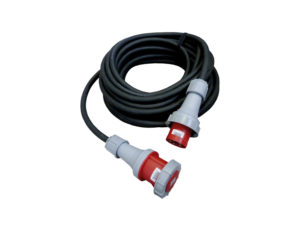 EXTENSION CORDS 63A
63A Doktorvolt® extension cord is a reliable tool for working in demanding conditions. The cable with conductor diamter of 5x10mm2 and a watertight socket and plug with IP67 protection degree are perfect for industrial use, large construction sites and construction projects, workshops, factories, mines and for supplying agricultural devices. The extension is oil-resistant, ideal for use in both dry and wet environments.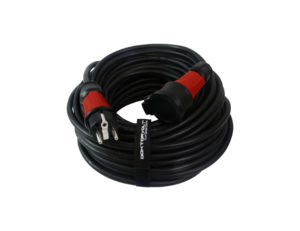 EXTENSION CORDS 230V
Doktorvolt® 230V extension cable is produced in two versions: German Schuko standard, and French-Belgian one with grounding pin. The product is made of a 3×1.5mm2 cable and Bals plugs and sockets. Doktorvolt extensions are perfect for working in difficult conditions thanks to IP44 protection.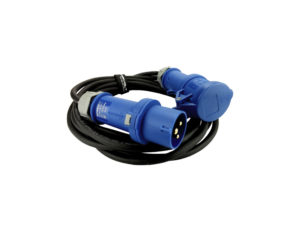 CAMPING SITE EXTENSION CORDS
Doktorvolt® Camping Boot extension cables are used in hard conditions, have high resistance to impacts, shocks and oil. They are made of cables with a conductor cross-section of 3×1,5mm2, MENNEKES Type 148A plugs and Type 180A sockets. Extension cords are suitable for domestic and industrial use, they can also be used in workshops and camping sites.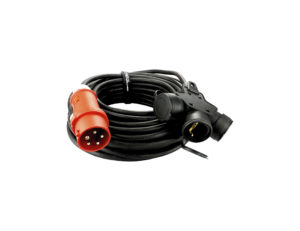 3X EXTENSION CORDS
Three-way outlet extension cords from Doktorvolt® assortment are the perfect solution for work requiring the use of multiple devices. The offer includes both three-way sockets connected to the mains with a 230V plug and a 16A 400V CEE socket (each 230V socket fed with a separate phase). Extension cords are oil-resistant, have IP44 protection and are suitable for domestic and industrial use.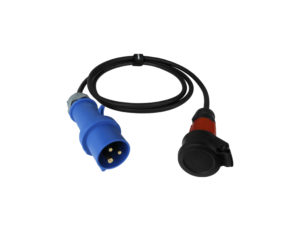 ADAPTERS
Doktorvolt® electrical adapters give the user a wide range of possibilities to work with devices and sockets in various combinations. The products connect equipment with camping sockets / plugs, CEE and 230V with earthing. Adapters meet safety standards, they are made of high quality components manufactured in Europe. They give the possibility of connecting devices and wires of different type, rated current, number of cunductors / pins in sockets.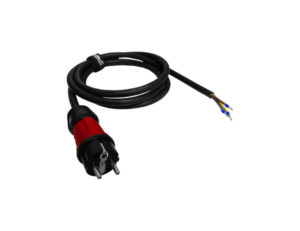 CONNECTING CABLES
Doktorvolt® also has connecting wires available in assortiment. These are products prepared for working in difficult conditions, ideal for industrial machines. They come in various combinations: 16A / 5P, 32A / 5P or 230V. Cable sheath is resistant to oils, with insulation made of natural or synthetic rubber. The wire is isolated and ends with insulated ferrules on each vein on one side, and a suitable plug on the other.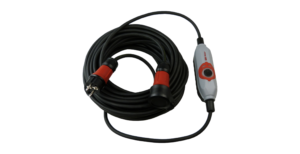 PRCD-S SERIES
Extension cords fitted with the PRCD-S + automatic cable fuse are the highest standard of safety on the market. Additional protection minimizes the risk of electric shock. The extension cords are additionally equipped with components characterized by IP44 protection degree.